dr. Koen Tyberghein (PhD)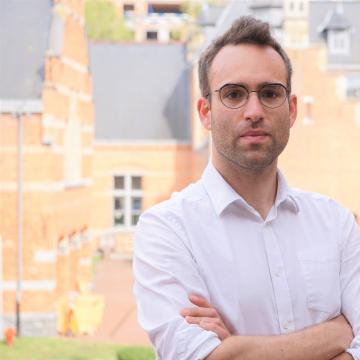 Business Developer, leading the Protein Technologies Ghent valorization consortium and supporting CRIG
 
Biography
Koen Tyberghein holds MSc degrees in biomedical sciences and corporate economics, and obtained his Ph.D in molecular cell biology at Ghent University. 
Following his doctoral research, Koen worked as an R&D project manager (consultant) for 3.5 years. Most important assignments in that period were appointments as clinical program management lead at Janssen Pharmaceutica Infectious Diseases & Vaccines, and program manager at Mycartis (diagnostics company).
Main achievements in these roles are the EMEA approval of a new combinatorial HIV therapeutic, successful start of clinical stage II trial of a new HIV vaccine, and the successful translation of an existing first-in-class diagnostic assay to a new microfluidics platform.
 
Specialization
In 2018 he joined both the UGent Tech Transfer and VIB Innovation & Business teams as business development manager. Leading the Protein Technologies Ghent valorization consortium from a business-point-of-view, he is supporting research groups mainly active in development of enabling technologies for proteomics-based R&D.
Research collaborations
License deals
Spin-off incubation & creation