dr. Kim Van der Eecken (MD)
CRIG member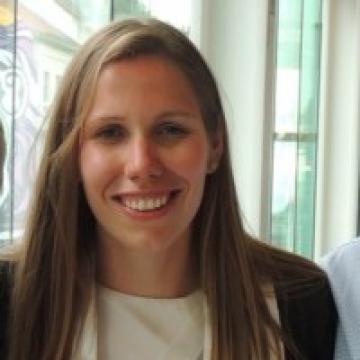 Doctoral fellow – Department of Radiation Oncology and Experimental Cancer Research, Ghent University
Pathology resident – Department of Pathology, University Hospital Ghent 
Principal Investigators: prof. Piet Ost (MD, PhD), prof. Jo Van Dorpe (MD, PhD) &
                                            prof. Sofie Verbeke (MD, PhD)
 
Research focus
Despite recent therapeutic advances, metastatic hormone-sensitive prostate cancer (mHSPC) remains invariably fatal with varied outcomes across patients. Understanding its underlying biology is seen as a critical need to improve risk stratification and therapy selection. 
In our research, we aim to study the molecular landscape of mHSPC through the analysis of tumor tissue and circulating tumor DNA. Ultimately, this research aims to improve precision clinical care among men with mHSPC.
 
Biography
2018-present: Pathologist in training, Ghent University. 
2018-present: PhD fellow, Ghent University.
2018: Master of Medicine, Magna cum laude. Ghent University. 
2011-2014: Bachelor of Medicine, Summa cum laude. Ghent University.
 
Key publications
Tissue- and blood-derived genomic biomarkers for metastatic hormone-sensitive prostate cancer : a systematic review.  European Urology Oncology, 2021, PMID: 34801437

Shallow whole-genome sequencing of plasma cell-free DNA accurately differentiates small from non-small cell lung carcinoma. Genome Med, PMID: 32317009

The Mutational Landscape of Metastatic Castration-sensitive Prostate Cancer: The Spectrum Theory Revisited. European Urology, PMID: 33419682

Comparative analysis of somatic variant calling on matched FF and FFPE WGS samples. BMC Med Genomics, PMID: 32631411


 
Contact & links
Department of Pathology, PAD-building, entrance 23, Ghent University Hospital, Corneel Heymanslaan 10, 9000 Ghent, Belgium
Kim Van der Eecken is interested to receive invitations for presentations or talks