dr. Delfien Bogaert (MD, PhD)
CRIG member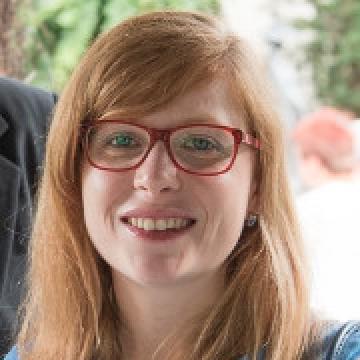 Research focus
Our main goal is to contribute to increase the cure rates of pediatric cancer and decrease the therapy-related late effects within survivors. The optimal translation of the fundamental and applied research into children benefit (short-and long-term) is a major aspect throughout all research in our team.
In particular, my research focusses on cancer predisposition in children with primary immunodeficiencies (PIDs), i.e. inborn defects in the immune system. Many key molecules that are missing or dysfunctional in PIDs have been independently described in the context of carcinogenesis. Although the association between cancer and PIDs was first described in the 1970s, knowledge on the pathogenesis and biological characteristics of PID-associated cancers remains scarce. Most PID-associated malignancies are of hematologic origin, but these is also an increased risk of brain tumors and extracranial solid tumors. Children with PID-associated malignancies have a markedly worse survival. They experience increased toxicity and/or decreased efficacy of standard cancer treatments. They also have a higher risk of recurrence and secondary malignancies. During cancer treatment, they are more susceptible to severe infections. Therefore, the presence of an underlying PID may have important therapeutic implications, such as dose modification of chemotherapy, avoidance of radiotherapy, stem cell transplantation in first remission, and more extensive antimicrobial prophylaxis. However, because the clinical picture of PIDs is very variable, the disorder may not yet be recognized when a child presents with cancer, impeding patient-tailored treatment.
Our studies are carried out by employing genome-wide screening techniques at the DNA level (array CGH, whole exome and candidate gene DNA sequencing) and at the RNA level (gene expression and microRNA profiling). In addition, we have extensive experience with many molecular biology tools for functional analyses. 
 
Biography
2006-2013: Master in Medicine, Ghent University.
2013-2017: doctoral fellow of the Research Foundation - Flanders (FWO).
2016: visiting researcher at the National Institutes of Health (NIH), Bethesda, MD, USA. Funded by FWO and ESID travel grants. Rewarded with the ESID Junior Talent Award in 2018.
2017: PhD in Health Sciences, Ghent University. Title: Molecular diagnosis of Common Variable Immunodeficiency and related antibody disorders : an integrated immunological and genetic approach. Promotors: Prof. Dr. Elfride De Baere, Prof. Dr. Filomeen Haerynck, Dr. Melissa Dullaers.
2016-2020: ESID junior country representative of Belgium.
2013-2020: Master in Specialist Medicine: Pediatric Medicine, Ghent University.
2020-present: clinical fellow in pediatric hematology-oncology. Joint fellowship at Ghent University Hospital (Ghent, Belgium) and Princess Máxima Center for Pediatric Oncology (Utrecht, The Netherlands). Granted by Koning Boudewijnstichting / Fund Princess Máxima Center Belgium.
 
Key publications
'Severe phototoxicity associated with concomitant use of methotrexate and voriconazole, an overlooked drug-drug interaction'. Pediatric Blood & Cancer, 2020. (PMID 32207558)

GATA2 deficiency and haematopoietic stem cell transplantation: challenges for the clinical practitioner'. British Journal of Haematology, 2020. (PMID 31710708)

'A CARD9 founder mutation disrupts NF-kB signaling by inhibiting BCL10 and MALT1 recruitment and signalosome formation'. Frontiers in Immunology, 2018. (PMID 30429846)

'A novel LPS-responsive beige-like anchor protein (LRBA) mutation presents with normal cytotoxic T lymphocyte-associated protein 4 (CTLA-4) and overactive Th17 immunity'. The Journal of Allergy and Clinical Immunology, 2018. (PMID 30193839)

'Ikaros family zinc finger 1 regulates dendritic cell development and function in humans'. Nature Communications, 2018. (PMID 29588478)

'A novel IKAROS haploinsufficiency kindred with unexpectedly late and variable B cell maturation defects'. The Journal of Allergy and Clinical Immunology, 2018. (PMID 28927821)

'Early-onset primary antibody deficiency resembling common variable immunodeficiency challenges the diagnosis of Wiedemann-Steiner and Roifman syndromes'. Scientific Reports, 2017. (PMID 28623346)

'The immunophenotypic fingerprint of patients with primary antibody deficiencies is partially present in their asymptomatic first-degree relatives'. Haematologica, 2017. (PMID 27634199)

'Genes associated with common variable immunodeficiency: one diagnosis to rule them all?' Journal of Medical Genetics, 2016. (PMID 27250108)

'Persistent rotavirus diarrhea post-transplant in a novel JAK3-SCID patient after vaccination'. Pediatric Allergy and Immunology, 2016. (PMID 26248889)


 
Contact & links
Lab address: Laboratory for Pediatric Hematology-Oncology, ingang 10 (route 1034), Ghent University Hospital, Corneel Heymanslaan 10, 9000 Ghent
Involved in CPIG : the Center for Primary Immunodeficiencies Ghent (CPIG) is a center of excellence within Ghent University Hospital that encompasses all medical disciplines and labs specialized in clinical care and research involving patient with PIDs
Delfien Bogaert is interested to receive invitations for talks or presentations