dr. Benoit Louage (PhD)
CRIG member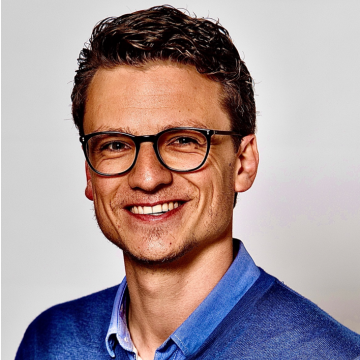 Postdoctoral researcher - Biopharmaceutical Technology Unit, Department of Pharmaceutics (UGent)
Principal investigator: prof. Bruno G. De Geest (PhD)
 
Research focus
The lab of Prof. De Geest operates at the interface between chemistry, nanotechnology and immunology with a strong focus on engineering the interaction between cancer and the immune system. In this context, the lab develops therapeutic strategies that aid and/or instruct the immune system at recognizing and eliminating cancer cells.
 
Biography
Benoit graduated as pharmacist and master in drug development in 2012 at Ghent University, where he obtained his PhD in pharmaceutical sciences in 2017.
In 2018, Benoit obtained a masters in financial management at Vlerick Business School.
Subsequently, Benoit was active for 3 years in Brussels as a healthcare/biotech equity research analyst in a leading Belgian investment bank.
In 2021, Benoit returned to the De Geest group as postdoctoral researcher, where he leverages on his experience and aims to be involved in highly innovative research projects with compelling valorization and clinical translation potential, with the ultimate objective to drive their transition into commercial application.
 
Key publications
'Potent Lymphatic Translocation and Spatial Control Over Innate Immune Activation by Polymer–Lipid Amphiphile Conjugates of Small‐Molecule TLR7/8 Agonists'. Angewandte Chemie International Edition, 2019 (PMID: 31397948)

'Developments and Future Clinical Outlook of Taxane Nanomedicines'. Journal of Controlled Release, 2017 (PMID: 28336374)

'Micellar Paclitaxel-Initiated RAFT Polymer Conjugates with Acid-Sensitive Behavior'. ACS Macro Letters, 2017

'Poly(Glycerol Sebacate) Nanoparticles for Encapsulation of Hydrophobic Anti-Cancer Drugs,' Polymer Chemistry, 2017

'Well-Defined Polymer-Paclitaxel Prodrugs by a Grafting-from-Drug Approach'. Angewandte Chemie International Edition, 2016 (PMID: 27560940)

'Degradable Ketal-Based Block Copolymer Nanoparticles for Anticancer Drug Delivery: A Systematic Evaluation'. Biomacromolecules, 2015 (PMID: 25490543)


 
Contact & links
Lab for Biopharmaceutical Technology, Faculty of Pharmaceutical Sciences, third floor, Ottergemsesteenweg 460, 9000 Ghent
Benoit Louage is interested to receive invitations for presentations or talks