dr. Benedicte Descamps (PhD)
CRIG member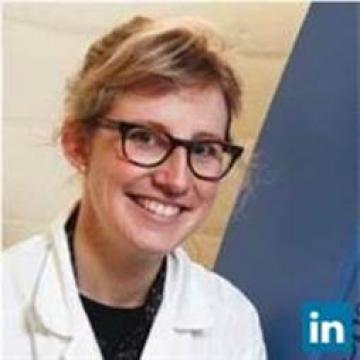 Postdoctoral researcher - Infinity Lab (IMIT Ghent, MEDISIP, Faculty of Engineering and Architecture, UGent)
(PI: prof. Christian Vanhove)
 
Research focus
Over the last 100 years, biomedical imaging has developed from simple two-dimensional X-ray imaging into a compendium of powerful multi-dimensional imaging techniques and has progressed in four distinct ways: standardized protocol allowing quantitative imaging, innovations in medical devices, innovations in imaging analysis and innovations in imaging agents. Our research is directly related to these four domains, mainly in the field of small animal imaging.
 
Biography
Benedicte started her research career with an IWT grant in a collaboration between the  Neuroradiology dept. and the dept. of Neurology, investigating migraine without aura using functional MRI.  
Following her doctoral research, she switched from clinical to preclinical research at the Infinity lab. Next to small animal MRI, she also gained experience in other imaging modalities such as PET, SPECT, CT, US and optical imaging. She still has a special focus on MRI (cancer) applications. She is involved in study design, training, data acquisition and processing, writing ethical files (both for laboratory animals and human studies), etc.
 
Key publications
Assessment of the effect of therapy in a rat model of glioblastoma using [18F]FDG and [18F]FCho PET compared to contrast-enhanced MRI. PLoS One. 2021

Intra-individual dynamic comparison of 18F-PSMA-11 and 68Ga-PSMA-11 in LNCaP xenograft bearing mice. Sci Rep. 2020

In vivo selection of the MDA-MB-231br/eGFP cancer cell line to obtain a clinically relevant rat model for triple negative breast cancer brain metastasis. PLoS One. 2020

Development of a rat model for glioma-related epilepsy. Int. J. Mol. Sci. 2020

Synergy between intraperitoneal aerosolization (PIPAC) and cancer nanomedicine : cisplatin-loaded polyarginine-hyaluronic acid nanocarriers efficiently eradicate peritoneal metastasis of advanced human ovarian cancer. ACS Appl. Mater. Interfaces. 2020

2-[18F]FELP, a novel LAT1-specific PET tracer, for the discrimination between glioblastoma, radiation necrosis and inflammation. Nucl. Med. Biol. 2020

Preclinical evaluation of local prolonged release of paclitaxel from gelatin microspheres for the prevention of recurrence of peritoneal carcinomatosis in advanced ovarian cancer. Sci. Rep. 2019

A 3D CFD model of the interstitial fluid pressure and drug distribution in heterogeneous tumor nodules during intraperitoneal chemotherapy. Drug Deliv. 2019

Hypoxia imaging with 18F-FAZA PET/CT predicts radiotherapy response in esophageal adenocarcinoma xenografts. Radiat Oncol, 2018. (PMID: 29514673)

PET and MRI Guided Irradiation of a Glioblastoma Rat Model Using a Micro-irradiator. J Vis Exp, 2018. (PMID: 29364211)

Radiotherapy-Activated Cancer-Associated Fibroblasts Promote Tumor Progression through Paracrine IGF1R Activation. Cancer Res, 2018. (PMID: 29217764)
Contact & links
Innovative Flemish In-vivo Imaging Technology (INFINITY )
INFINITY is a pre-clinical core imaging facility of Ghent University providing multi-modality small animal imaging services.
Infinity Lab: entrance 21, Corneel Heymanslaan 10, Ghent
Medical Imaging and Signal Processing (MEDISIP )
MEDISIP: entrance 36 (5th floor), Corneel Heymanslaan 10, Ghent
Innovative Molecular Imaging and Therapy (IMIT )
address: IBiTech; UZ campus entrance 36; Corneel Heymanslaan 10; 9000 Gent
dr. Descamps is interested to receive invitations for presentations or talks