Charlotte Vandeputte
CRIG member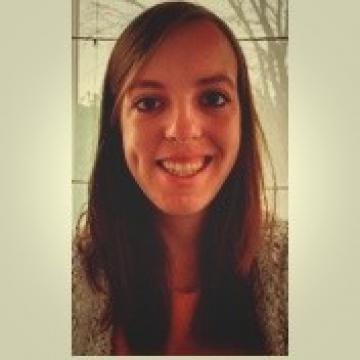 Doctoral fellow - Lab of Translational Onco-genomics and Bio-informatics – Center for Medical Genetics (UGent)
Principal Investigator: prof. Katleen De Preter (PhD)
 
Research focus
Neuroblastoma (NB) is the most common extra-cranial solid tumor of childhood and is characterized by a remarkable biological and clinical heterogeneity. Recurrent somatic mutations are rare, while DNA copy number alterations (CNAs) are present in almost all cases. Several studies have shown that favorable versus highly aggressive NBs have distinct CNA patterns i.e. whole chromosomal imbalances only versus segmental chromosomal gains and losses, respectively. Mapping the CNA profile of NB tumors is important for prognostic/therapeutic stratification of patients. 
Currently, profiling methods rely on the availability of primary tumor tissue at diagnosis. However, this involves an invasive procedure and does not capture the spatial and temporal heterogeneity of NB. The recent finding that circulating cell-free tumor DNA (cfDNA) originating from apoptotic and necrotic tumor cells can be detected in blood samples from cancer patients, opened up the possibility for LQBs to offer non-invasive alternatives to surgical biopsies. Moreover, LQBs are suitable for multiple and temporal sampling during patient follow-up and could provide a more comprehensive picture of the genetic tumor heterogeneity. 
During this PhD, I will evaluate the temporal copy number heterogeneity using shallow whole genome sequencing of cfDNA present in the plasma of NB patients. In addition, I will compare the tumor heterogeneity detected using cfDNA with disseminated tumor cells and circulating tumor cells found in the peripheral blood. This last comparison will allow us to determine which fraction of DNA best captures the spatial tumor heterogeneity.
 
Biography
Charlotte Vandeputte obtained in 2014 a Bachelor of Biomedical Laboratory Technology with the specialization Pharmaceutical and Biological Laboratory Technology at Katholieke Hogeschool Sint-Lieven Gent (now: Odisee Hogeschool). During this study, she lived 4 months abroad in Poland at the University of Opole to execute her bachelor's thesis.
Because of her great interest in genetics and molecular biology, she continued her education at Ghent University to become a Master of Science in Biochemical Engineering Technology.
After graduating in 2016, it was clear for Charlotte that she wanted to be involved in cancer research. In October 2016, she became a lab technician at the Center for Medical Genetics in Ghent in the team of prof. Frank Speleman. One year later, she started as a doctoral fellow in the lab of prof. Katleen De Preter with the support of a starter's grant Emmanuel van der Schueren (Kom Op Tegen Kanker).
 
Key publications
'Shallow whole genome sequencing on circulating cell-free DNA allows reliable noninvasive copy number profiling in neuroblastoma patients'. Clinical cancer research, 2017. (PMID: 28710315)


 
Contact & links
Lab address: Center for Medical Genetics Ghent (CMGG), Medical Research Building 1 (MRB1), entrance 34, 2nd floor, Corneel Heymanslaan 10, 9000 Ghent
Charlotte Vandeputte is interested to receive invitations for presentations or talks