Barbara Stepic
CRIG member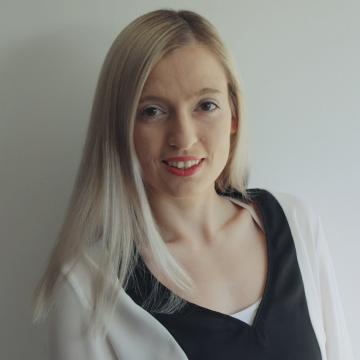 Doctoral Fellow – Molecular Signaling and Cell Death Unit – VIB-UGent Inflammation Research Center – Molecular Skin Biology Group (Faculty of Sciences, UGent)
Principal Investigator: prof. Wim Declercq (PhD)
 
Research focus
Cutaneous squamous cell carcinoma (cSCC) is a common form of skin cancer, primarily caused by accumulation of ultraviolet light (UV)-induced mutations. However, cSCC often develops within the context of chronic inflammation. Receptor-Interacting Kinase 4 (RIPK4) is a kinase involved in epidermal differentiation and homeostasis, which is among the top commonly mutated genes in cSCC with UV signature.
Our research focuses on the relationship between skin barrier integrity, skin inflammation and tumor susceptibility by investigating the molecular mechanisms and tumor suppressing role of RIPK4 in skin cancer.
 
Biography
I obtained my MSc in Medical and Pharmaceutical Biotechnology from IMC University of Applied Sciences Krems in 2020. I performed my master thesis research assignment in the field of lung cancer in Dr. Kashani's lab at California Pacific Medical Center Research Institute. Afterwards, I joined the lab of Prof. Wim Declercq as a PhD student, focusing on the function of RIPK4 in skin homeostasis and carcinogenesis. 
 
Contact & links
Lab address: Inflammation Research Center, FSVM I, Technologiepark-Zwijnaarde 71, Gent 9052
Barbara Stepic is interested to receive invitations for presentations or talks