Alvaro Marcos Rubio
CRIG member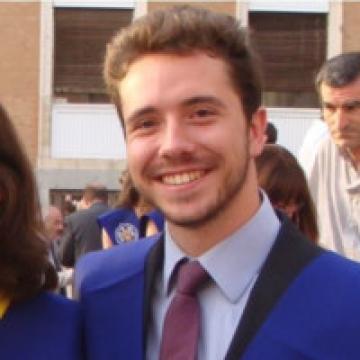 Research focus
Lung cancer is the most common cancer type worldwide, presenting an incidence of 13%. Moreover, in Europe, it accounts for 21% of the cancer-related deaths, representing a major health problem. In the last few years, immunotherapy has become a very promising option for lung cancer treatment, more specifically immune checkpoint inhibitors (ICIs). These monoclonal antibodies enhance the immune anti-tumoral T-cell responses by blocking CTLA4 or PD-1/PDL1 interactions, which are immune suppressive pathways expressed in the tumor microenvironment to dampen those responses. Clinical trials show a response rate between 20% and 28% for nivolumab and pembrolizumab (both approved PD-1 inhibitors), which is more than with chemotherapy. In addition, immunotherapy is less toxic than chemotherapy, yet adverse effects can happen. 
Given its high cost and potential toxicities, and therefore its major impact on both the patients and the health care system,  an important clinical challenge is to identify immunotherapy responders upfront and monitor the responses after the first weeks of treatment. Several biomarkers for immunotherapy response have been studied, but none of them have the accuracy to completely distinguish responders from non-responders. In addition, all of them need the collection of a tumor tissue biopsy.
Therefore, the main aim of this research project is to develop and implement a clinically affordable and usable predictive test for ICI-therapy response, which can be performed in the patients' blood before and after the first administration of the treatment. To achieve this goal, I will perform RNA sequencing and ATAC sequencing in whole blood and PBMC samples from responsive and non-responsive patients to ICI-therapy, and apply a computational deconvolution pipeline on the generated data to identify immune cell subpopulations that are differentially present in both groups.
 
Biography
In 2018 I obtained a Master of Science in Biochemistry, Molecular Biology and Biomedicine at the Complutense University of Madrid. The title of my thesis project was 'Clinical and molecular characterization of gastrointestinal stromal tumor patients for immunotherapy treatment'.
In 2019 I did a 9-month internship at the Institute of Translational Medicine, University of Liverpool. My research was focused on the discovery of novel non-invasive epigenetic biomarkers (DNA methylation and microRNA expression) for lung cancer diagnosis.
In December 2019 I started my PhD project as a full-time predoctoral researcher at Katleen De Preter's Lab (CMGG, UZGent, UGent). With my background in cancer and immunotherapy research, and the bioinformatics expertise of the De Preter's team, I will search for non-invasive predictive biomarkers for immunotherapy response in lung cancer patients.
 
Contact & links
Lab address:  VIB Center for Medical Biotechnology
UGent Department of Biomolecular Medicine
Technologiepark-Zwijnaarde 75 - 9052 Gent – BELGIUM
Alvaro Marcos Rubio is interested to receive invitations for presentations or talks