Iuliia Efimova
CRIG member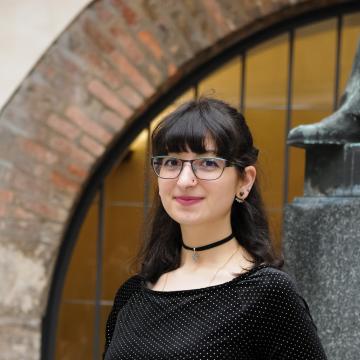 Doctoral fellow – Cell Death Investigation and Therapy Laboratory, Department of Human Structure and Repair, Faculty of Medicine and Health Sciences, UGent
Principal investigator: prof. Dmitri Krysko (MD, PhD)
 
Research focus
The topic of my research is linked to the concept of Immunogenic Cell Death (ICD) and its application in anti-cancer therapy. Currently more than 12 sub-types of cell death have been described including ICD, being immunogenic apoptosis and immunogenic necroptosis. In general, ICD is characterized by the emission of damage-associated molecular patterns (DAMPs, such as ATP, HMGB1, calreticulin, nuclear and mitochondria DNA) and/or cytokines/chemokines, leading to the induction of strong anti-tumor immune responses. It has been shown that cancer cells gain resistance towards both immunogenic apoptosis and necroptosis, the fact that leads to a further investigation of other types of ICD and their application in anti-cancer therapy. One of the relatively recent type of cell death, ferroptosis, first described in 2012, is acquiring interest in cancer and immunologic research as a possible ICD. My research is aimed on investigation of immune-modulatory role of ferroptotic cancer cells on immune system in the context of cancer.
 
Biography
I obtained a Master of Science in Cellular and Developmental Biology (in 2018) at the Charles University in Prague, Czech Republic. 
I started my PhD under the supervision of prof. Dmitri Krysko (MD, PhD) in October 2018, in October 2020 I received the FWO PhD Fellowship for Fundamental Research. 
 
Key publications
'Vaccination with early ferroptotic cancer cells induces efficient antitumor immunity'. Journal for Immunotherapy of Cancer, 2020 (PMID: 33188036)

'A 3D Cell Death Assay to Quantitatively Determine Ferroptosis in Spheroids'. Cells, 2020 (PMID: 32183000)

'Immunogenic cell death induced by a new photodynamic therapy based on photosens and photodithazine'. Journal for Immunotherapy of Cancer, 2019. (PMID: 31842994)


 
Contact & links
Lab address: Campus UZ Ghent, Corneel Heymanslaan 10, 4B3, 9000 Ghent, Belgium
Iuliia Efimova is interested to receive invitations for presentations or talks