Heleen Van Puyvelde
CRIG member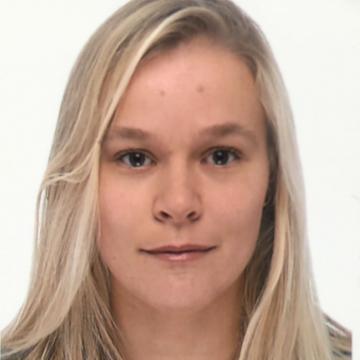 PhD student - Department of Public health and primary care, UGent, Faculty of Medicine and Health Sciences
Principal investigator: prof. Dirk De Bacquer (MD, PhD)
 
Research focus
Research Topic: Impact of methyl-group donor intakes on breast cancer risk
Breast cancer is a major public health concern and numerous studies found a link between various cancers and diet components. Some compounds in the diet were proven to alter DNA methylation patterns and consequently may increase cancer risk.
DNA methylation is the most extensively studied mechanism of epigenetic gene regulation, a biological mechanism that will switch genes on and off. The universal methyl-group donor for DNA methylation is S-adenosylmethionine (SAM), which is provided by one-carbon metabolism. Methyl donors like methionine, folate, betaine and choline are micronutrients which are essential to the decent functioning of one-carbon metabolism. Aberrations in this pathway by deficiency or excess in any of these micronutrients, could affect the DNA methylation process through an alteration in the bioavailability of SAM. Improper alterations in DNA methylation patterns can affect normal patterns of gene expression or alter genome stability and thereby lead to an increased risk of cancer. Therefore, the objective is to examine the hypothesis that dietary intake of methyl-group donors involved in one-carbon metabolism may influence breast cancer risk through alterations in DNA methylation patterns. 
This project is inter-disciplinary, bringing together skills in epidemiology (using large-scale epidemiological studies), biostatistics and translational research (using in vitro models). This approach is very important with respect to the general population, because it will aid in identifying causes of cancer and how to integrate these findings so that preventive measures may be adopted and associated suffering may be reduced. The results of this study will contribute to scientific evidence for appropriate public health and primary prevention strategies aimed at reducing breast cancer incidence in the long run.
 
Contact & links
Lab address: campus UZ Gent, 4K3, entrance 42, Corneel Heymanslaan 10, 9000 Ghent
Heleen Van Puyvelde  is interested to receive invitations for presentations or talks